2021 is the year to get outside! It's a perfect opportunity for you to pick up a new outdoor hobby, such as hiking, gardening, or even camping.
If you've decided you want to start hiking or camping—or both!—then you're probably in need of some destinations in which to practice your new hobby. Here are some amazing hiking and camping destinations you should try this year!
Mesa Verde National Park
Located in Colorado, the Mesa Verde National Park aims to preserve Pueblo culture up in the Northern Rockies. Boasting beautiful cliffsides and sprawling campsites, Mesa Verde is perfect for anyone who wants to learn more about Native American history and enjoy picturesque scenery.
Big South Fork Recreation Area
Spanning parts of Kentucky and Tennessee, the Big South Fork Recreation Area has a variety of campgrounds and trails available for you to enjoy! The best part? It's dog-friendly!
You must keep your dog within six feet of you on a leash at all times, and some of the trails have steep rocks your pup might not be able to travel on. The Park Service does require all dogs visiting to have tags, so make sure you put your dog's updated information on personalized dog tags.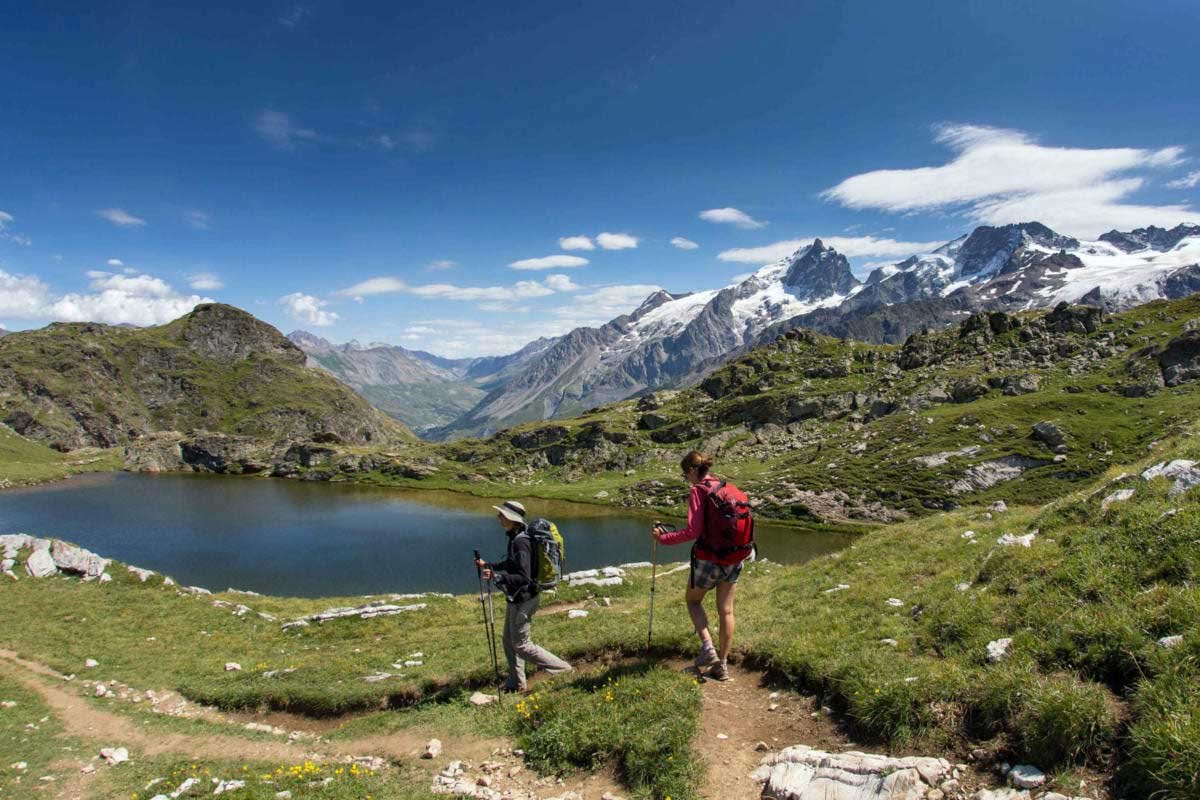 Saguaro National Park
Saguaros (pronounced sa-WAH-ro) are cacti that grow to a variety of heights. They flower between April and June, so that's the perfect time to visit! It can also get quite warm during that time in Tucson, Arizona, so be sure to bring plenty of water and stay hydrated.
Hot Springs National Park
Another dog-friendly national park, Hot Springs National Park is located in the heart of Arkansas. You can even take your dog to the Gulpha Gorge Campground—just be sure to pay the camping fee ahead of time. It's right in the middle of town, so you'll have a variety of things to do in between your exploration of the park and trails.
Voyageurs National Park
A beautiful park nestled in northern Minnesota, Voyageurs National Park is the perfect place to spend a summer weekend. A maze of interconnected water highways, Voyageurs is perfect for any campers who want to spend the day boating through the water and then returning to their campsite at night. Who knows? You might even be able to see the Northern Lights from your campsite!
Bighorn Canyon National Recreation Area
Situated in parts of Montana and Wyoming, Bighorn Canyon National Recreation Area boasts beautiful scenery for miles and miles! You can camp, hike, and even kayak throughout the recreation area. Bring the pup along, too, and get him a mountain dog tag to show off in all your Instagram photos.
Acadia National Park
Maine's Acadia National Park has over 150 miles of hiking trails available for you—and some of them even allow pets. You can camp for nights on end at the park, enjoying the headlands and the ocean. If you're an artist, you can  apply to their Artists-in-Residence program!
Sleeping Bear Dunes
Part of Michigan's National Lakeshore, the Sleeping Bear Dunes have lots of opportunities for you to exercise your hiking and camping desires. With a variety of campgrounds, trails, and even kayaking routes, there's something for everyone. You can ski in the winter or scuba dive in the summer. There are also indoor activities available for you and any of your travel buddies to enjoy.
Shenandoah National Park
One of the few national parks that allow pets on all its trails, Shenandoah National Park is filled with historic views of the Blue Ridge Mountains. Bring your pupper along for the weekend adventure, and enjoy the hazy fog as it settles over the rounded mountains in the early morning hours, right after sunrise. There's even backcountry camping available for you to really get the full camping experience.
Mammoth Cave National Park
In Kentucky lies Mammoth Cave National Park, a place filled with intricate cave networks that will leave you breathless. It's even a UNESCO World Heritage Site! There are over 80 miles of hiking trails available for you, and there's a variety of campsites you can sleep at after your days filled with hiking the trails and caves of the park.
Niobrara National Scenic River
Winding through Nebraska, the Niobrara National Scenic River is perfect for anyone who wants to enjoy some river kayaking while camping on different private campgrounds. Take a break from a weekend hiking and, instead, boat your way through the river, enjoying the scenes right from the water. If you would really rather prefer keeping your feet on dry land, then it might be a smart idea to check out Smith Falls State Park—you can still see the picturesque river, but from the safety of land.
Big Thicket National Preserve
If you're looking for a nature area that has it all, check out Big Thicket National Preserve in Southeast Texas! Right outside of Houson, Big Thicket has everything you'd want in an outdoor area: hiking, fishing, paddling, and camping! There's a variety of backcountry camping sites available for you to enjoy.
Pinnacles National Park
In California, Pinnacles National Park has both woodlands and canyons for you to adventure through. The unique landscape is perfect for pictures—and you can even camp right there at the park! If you're an experienced rock climber, then Pinnacles National Park is the place to do it. With such a unique landscape, it presents a challenge for experienced rock climbers. Just exercise caution and make sure you're prepared before heading to the climb.
Even if you're new to hiking and camping, there are lots of parks and recreation areas throughout the country with breathtaking views, perfect to set up camp and hike around. Some even let you bring your pet along. With so much to explore, you'll want to take every weekend off! By the end of the year, you'll be a hiking and camping pro. Then, in 2022, you can start to hike and camp internationally!