Many people are aware that the Maldives is one of the most beautiful locations in the world. Famous for crystal blue waters and long stretches of fine white sand with a tropical climate that cannot be beaten. If you have ever considered travelling to this incredible paradise, there are some things you should know before you leave your home. 
Many Islands
There are actually over 1000 islands making up the Maldives. If you are looking to spend your time at a resort, you will find most are located on their own island. If you're planning to do a lot of exploring be aware that most of your travelling if you leave the island you are staying on will be by water taxi. The only problem this creates is which one of the fantastic resorts and stunning islands you choose to stay in!
Faith System
Referred to as a group the Maldives, yes all of them, are a Muslim country. So, this means there are restrictions on alcohol that many tourists are not aware of. Alcoholic drinks are generally available within the resorts, but in the capital and various other places, you must not have alcohol on your person. This limits the amount of duty-free you can purchase, and the penalties for being caught with it can be quite strict so you should respect their faith system. 
Go to the Beach at Night
No matter which island you are staying on be sure to visit the beach after dark. This is when you will be able to see the stunning natural beauty of the luminescent plankton which appears at night-time. It is truly a magical sight, and you can have a look in advance on the Internet so that you know what to expect. 
Whale Sharks 
Another thing you will find off the coast of most islands in the beautiful whale shark. Obviously, like all sea creatures, there is no guarantee you will be able to find them, but generally, between June and September, you will actually be able to swim with them. They are very peaceful creatures and will not hurt you; they are not dangerous, like some sharks. If you would feel safer, you can book a local guide to swim with you and show you the most likely place to see them. Alternatively, you can remain on a boat and watch them from a distance.
Excellent Climate
Overall, the Maldives has a fantastic climate most of the year around. So, if you are looking to escape the dreary weather in the UK, you can head out pretty much anytime. There are a few months where you will get more rain than average, but it's certainly not the cold, depressing rain you are used to! You would have to be very unlucky to spend a week in the Maldives and not get mostly sunshine. 
Off Peak
Depending on what sort of holiday you have in mind you can either plan to arrive during the peak season or off-peak. There is more happening in the local area between December and April, but if you are looking for a quieter experience where you bump into less fellow tourists then heading there the rest of the year will be cheaper and offer you a holiday that is not so busy. 
Honeymoon Destination 
The sheer beauty of the Maldives means that it is always a popular destination for honeymoon couples. With this in mind, you will find that some of the resorts are adults only. However, with over 1000 islands to choose from, there are plenty of places to stay that welcome families. If you are an adrenaline junkie, you will also find some resorts geared up to plenty of sports and action, giving you the perfect high-octane holiday. Of course, if you are newlyweds and looking for a dream honeymoon destination, you really cannot beat the stunning beauty and luxury that is offered in many of the resorts here.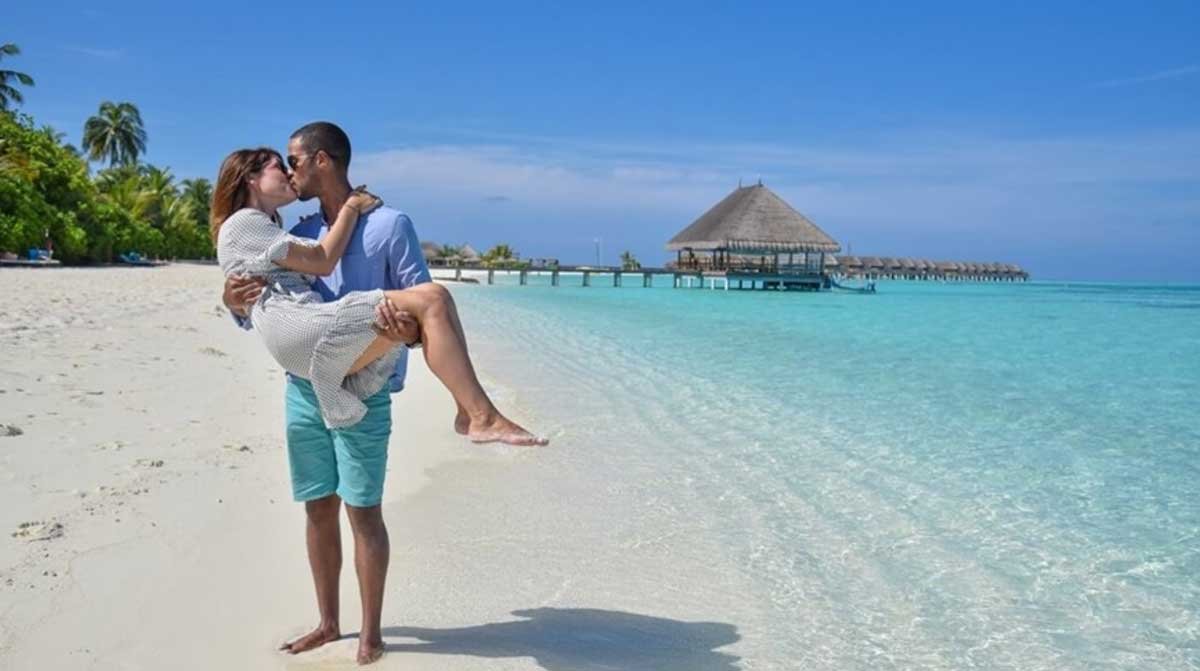 Half Board
You will find that most resorts feed you really well. This means that in most cases you can actually save some money by booking half board rather than full board or all-inclusive. A substantial breakfast after half nine will set you up for the rest of the day, and you can always grab some snacks at a local market if you get hungry before dinner. This also applies to alcohol; it's actually better not to be all-inclusive and just buy what you want as for most people it is cheaper. 
Snorkelling 
Some of the most stunning scenery you will find is under the water. So, a snorkel trip is a fantastic idea provided you are a competent swimmer. There are plenty of guided snorkel trips on offer to make the most of your time and remain safe. You can easily book at a resort that offers this, or you could island-hop to somewhere with a snorkel school. 
India
Many people combine their visit to the Maldives with trips to India or Sri Lanka. Both are within easy reach, and if you are travelling a long way, then it's certainly worth having a few extra days and maybe a layover in one of these two more significant places. There is no direct airport into the Maldives anyway; once you arrive, you will need to take a boat or small plane to get to your holiday destination.