Whether you're house hunting, waiting to move into a home that needs work, or planning a renovation, there's a lot to think about when designing a kitchen.
The layout requires careful consideration to ensure it's both functional and beautiful. From the arrangement of appliances to the storage configuration, there are many factors that will make a kitchen work – or not work – for you.
The Work Triangle
Before we kick off with popular kitchen layouts, it's worth mentioning the work triangle. A concept that was devised in the 1940s, it was one of the first measures of a kitchen's efficiency – and it still stands true today. The work triangle plots a clear path between the hob, the kitchen sink and the fridge. And its principles state:
The length of each side of the triangle should be between 1.2m and 2.7m
The combined length of the three sides should be between 4m and 7.9m
There shouldn't be any appliances or cabinets intersecting the triangle
There shouldn't be any major traffic through the triangle
Pretty technical, eh? But with that knowledge on board, we can now move on to the six most popular kitchen layouts. Of course, to a certain extent you will be dictated by the space on offer, but also have a think about your lifestyle and how you like to live. This could help you find the right configuration for your kitchen.
One-Wall
Best for small homes, like studio apartments and lofts, this layout features all cabinets and appliances against one single wall. It doesn't use the work triangle, but it keeps everything within easy reach. Vertical space is key in a one-wall kitchen, so shelves and overhead cabinets are vital.
Galley
Also referred to as corridor kitchens, this layout features two walls facing each other and is the best option for small spaces. The efficient design maximises every single inch of space thanks to its lack of corners. When considering this layout, it's important to keep the work areas along one of the walls, to minimise traffic through the work triangle.
L-Shaped
Streamlined and versatile, the L-shaped kitchen has cabinets along two perpendicular walls. Perfect for both small and large spaces, or open plan kitchen diners, this layout can often fit an island. It's advised you keep the legs of the "L" to no more than 4.5m to ensure ease of use, and consider installing a walk-in pantry cupboard to make the most of the corner and reduce wasted space.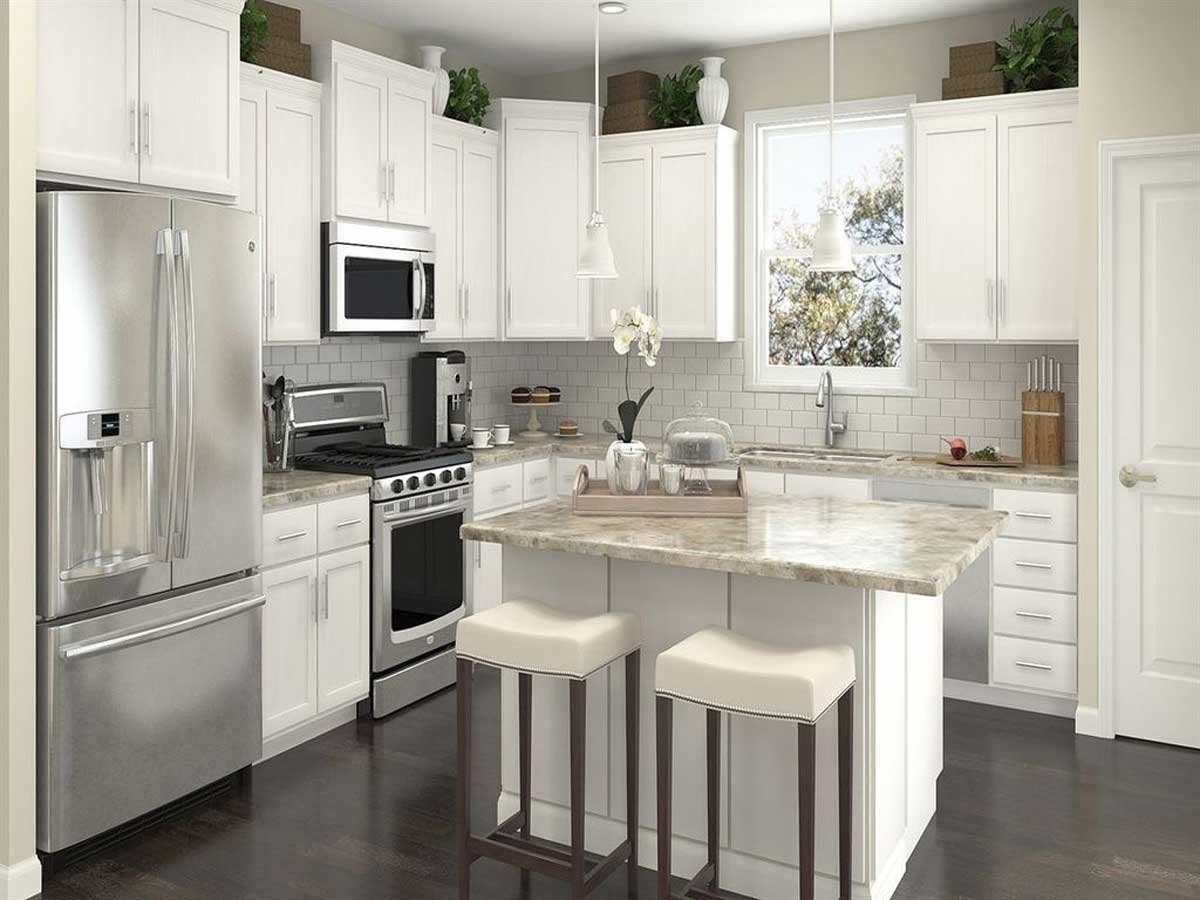 U-Shaped
The U-shaped kitchen is great for larger spaces, with cabinets wrapping around three walls that provide ample storage and great workflow. This layout divides the kitchen from the rest of the house and creates a perfect uninterrupted work triangle.
In smaller kitchens, this layout can feel enclosed. To avoid this, install upper cabinets on only two of the walls, with open shelving or statement tiles on the other.
Island
If you're designing a large kitchen and love to host, the island kitchen layout is perfect for you. Sociable and functional, a kitchen island can be used as the main prep surface, cooking area or washing space. Popular in open plan homes, they create a natural flow of traffic – as long as the space is large enough. Consider installing statement lighting, a wine fridge and bar stools for family breakfasts.
Peninsula
The sensibly named peninsula kitchen layout relates to the island – but instead of a free-standing surface, it juts out from a wall or cabinetry. This can work well if there's not enough space for an independent island and still offers a great place for food prep, eating or entertaining.