Winter is upon us, which means the return of frigid temperatures and darker days. While welcoming interiors are always in style, they're especially appealing when the weather outside turns frightful. If you've ever stepped out of the cold and into a warm and welcoming space, you're already aware of how wonderful it feels. It's such a special sensation, in fact, that they have a name for it in Denmark: hygge.
While there's no direct English translation of this concept, Country Living sums up hygge – pronounced "hoo-gah"– as "A feeling of cozy contentment and wellbeing through enjoying the simple things in life." Given what insiders say is a "national obsession" with this aesthetic, it's not surprising that Denmark is a perennial top finisher on roundups of the world's happiest countries.
The good news? You don't have to live in Scandinavia to embrace this way of life. Instead, you can apply some of hygge's guiding principles into your interior design scheme.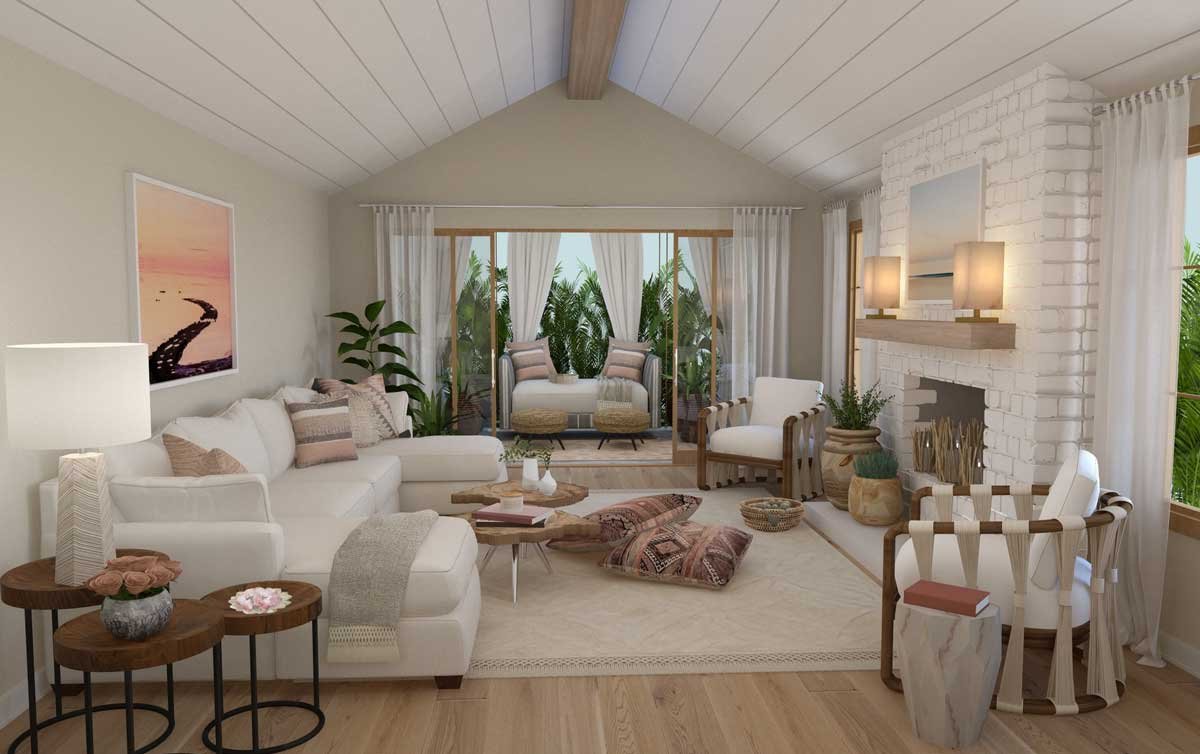 Read on for a closer look at five elements of hygge that can help you create a truly inviting space:
1. Soft Textures
When it comes to creating cozy home interiors, there's nothing quite like soft textures. Outfitting your living room with plenty of plush pillows, floor cushions, and high-end throw blankets is a great way to design a space that will truly invite people to settle in. While a variety of materials can contribute to a cozy atmosphere, cotton and cashmere are especially indulgent.
Of course, textures aren't limited to blankets and pillows. Rugs can be a vital, grounding element. Parachute founder Ariel Kaye told Lonny, "A well-placed, beautifully made rug can have a tremendous impact on a space. The right rug ties an entire room together and provides a cozy, comfortable place for your feet to land or even to lounge on."
2. Abundant Light
Natural light and candles are both aspects of the "warm glow" for which hygge is known. However, this same ambiance can also be created through cozy lighting ideas. In fact, there's no better way to make a winter living room feel cozier than with the right lighting.
However, there are some things to keep in mind when choosing light fixtures that will help to create a cozy essence in your living room. First, seek out light fixtures made with natural materials. You should also incorporate a mix of ambient, floor, table, and wall lamps and invest in adaptable lighting, such as dimmers. According to Kaye, "Plug-in dimmers are a super easy and inexpensive way to create beautiful ambiance without totally rewiring your room."
Additionally, lighting can be used to divide your space into cozy areas. For example, a chair, table, and lamp placed in the corner add up to an alluring reading nook. The right bulbs also matter. Swap out bright white options for warmer bulbs that emit soft amber light. Fireplaces are another way to add light while also expressing the hygge hallmarks of warmth and togetherness.
Keep in mind that just because hygge is simple doesn't mean it's about cutting corners. This ethos prioritizes the very best things in life. So, while high-end lighting may cost more, the beauty, functionality, and quality of light it provides is worthy of the expense.
3. Neutral Hues
There's nothing harsh or hostile about hygge. Rather, this decorating approach is all about remaining natural and organic. While bold, bright hues can be invigorating, they are often jarring, too. To avoid this, set the tone of your living room with a soft color palette. Continuing this theme throughout your home, such as with cozy bedroom colors, adds to the sense of cohesion and unity.
Calming whites and ivories are especially inviting living room colors and are therefore most representative of hygge. However, soft greys, greens, browns, and pinks also add up to a harmonious color palette. Accents of gold add a touch of luxury, but you should practice restraint when incorporating embellishments and accents.
"I like to stick to a natural color palette to create a cozy and calm vibe – plus it makes it easy to mix and match," Kaye says. "I gravitate towards soft greys, tans, and shades of white. I find this color scheme to be modern and minimalist yet warm and inviting."
4. Outside-In Decor
Hygge draws its inspiration from nature. The outside may be stark and barren, but this is all the more reason to add some restorative greenery to your living space. Lush plants, floral bouquets, and other greenery are an inexpensive, effective, and instant way to incorporate hygge into your home while purifying the air you breathe. Plus, did you know that indoor plants are linked with increased calmness, health, and happiness? In other words, they're a perfect antidote to the feelings of isolation, loneliness, and sadness often brought on by a lack of exposure to sunlight.
Another go-to hygge component? Natural wood, a nod to the beauty of nature, which also warms up your space.
5. Less is More
Does the thought of a crowded, cluttered interior make you feel stressed out? You're not alone. In fact, research indicates that a "cluttered home can be a stressful home." Hygge wants us to leave our stresses at the door and find zen within our own spaces. Paring down to essentials can help create especially calming interiors.
However, this doesn't mean you can't have cherished personal items. Just be sure that everything you bring into your home either serves a purpose or is something you truly love. Additionally, by prioritizing items with clean lines, minimalist shapes, and simple palettes, you can create the just-right feel embodied by the hygge design aesthetic.
In a time when many of us are at home more than ever before, spring and summer offer plenty of opportunities to venture into the great outdoors for relaxation and restoration. However, when cold weather sets in, it's much more challenging to get outside. We can think of no better reason to apply hygge's inspirational design ideas to transform your living room into a warm and welcoming retreat.
According to Scandinavian writer Pia Edberg, "Hygge was never meant to be translated – it was meant to be felt." Use these five tips to create a hygge-inspired living room that will see you through the melancholy winter and into the vibrant spring.
To learn more about hygge-inspired designs and how to apply it to your living area, take up design courses from schools that offer online degrees such as the National Design Academy.