Custom leather watch straps for luxury watches – Buy high-end quality watch bands Online
Drwatchstrap focuses on OEM handmade leather watch straps for men and women.
Material optional with American crocodile skin, lizard skin, ostrich skin, shark skin, Python skin, pearl fish skin, stingray skin, Siamese Croc calfskin, etc., leather, fabric, rubber, and nylon, etc.
Size from small or large size (S, M, L, XL), in 6mm, 8mm, 10mm, 12mm, 14mm, 15mm, 16mm, 17mm, 18mm, 19mm, 20mm, 21mm, 22mm, 24mm, 26mm, 28mm…
Color from black, grey, white, dark brown, medium brown, light brown, nude, navy blue, blue jean, burgundy, red, pink, green, khaki, yellow, orange…
We can handmade leather watch bands for most luxury watches including Patek Philippe, Vacheron Constantin, Jaeger-LeCoultre, Cartier, Omega, Blancpain, Rolex, Breguet, Piaget, Chopard, IWC, Franch Muller, Roger Dubuis, Hublot, and more watch straps. Please feel free to contact us by email, live chat, or WhatsApp. We can custom leather watch straps for most of the models.
Made to order
Count by working day (not Including official holidays, in case of holidays, it will be postponed later),
According to the sample, It is calculated from the next working day on the day of receipt of the sample tape,

Direct payment, Once received payment, the calculation will start on the next working day of the payment day.
Every leather watch band is handmade, it takes about 1-2 weeks to complete a whole strap

Bulk order. 5~30 days (according to the specific quantity)

How to order?
or buy a listed watchband on our website for your certain model.

or leave a comment while ordering, tell us the custom made color, size, stitching color, length, we can make it for you. No extra charge

or ship your old watchband to us, we can refurbish for you.

or ship your old watch band to us, we can use your old bridge insert and make a new watch band for you.

contact us now to custom leather watch straps for your watch
GUARANTEE
100% satisfaction guarantee!

100% perfect fit guarantee!

100% delivery guarantee!

14 days free return! Don't like something you bought? Tell us, and we'll be happy to issue a full refund.
Drwatchstrap is NOT affiliated with Rolex, Panerai, Patek Philippe, Tudor, Audemars Piguet or any other watch brand. DR watch strap is an independent company offering customized products in a non official capacity to existing watch brands' official watches.
Buy OEM leather watch straps, 100% handmade engraved western watch bands. Shop online at discount price, and ship worldwide!
Customers real-life images with Drwatchstrap custom leather watch bands
Handmade leather strap for Cartier Roadster watches, with quick switch metal adapters available with grooves or without grooves. The most popular material is nylon / Canvas material,  calfskin and alligator leather. Guarantee easy fit your Cartier Roadster watch. 
Lug size optional: 15.5mm for Cartier Roadster lady watch

Lug size optional: 19mm for Cartier Roadster S, W62041V3, Cartier Roadster GMT, 2510,2524, Cartier Roadster Chronograph XL 3405

Lug size optional: 20mm for Cartier Roadster Chronograph 2618

Compatible with double folded Cartier clasp (no buckle included)

Fully wrapped edge to prevent the leather from peeling off

Waterproof bottom calf leather with cow natural ventilation holes, comfortable and breathable

Soft to the touch and comfortable on the wrist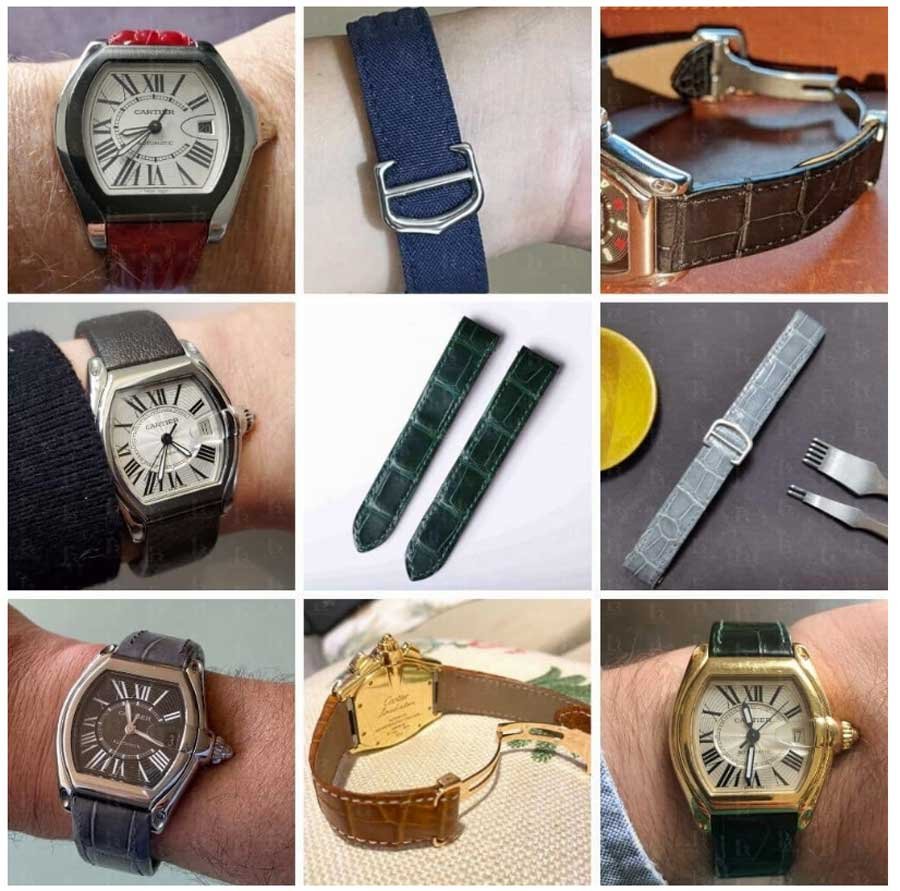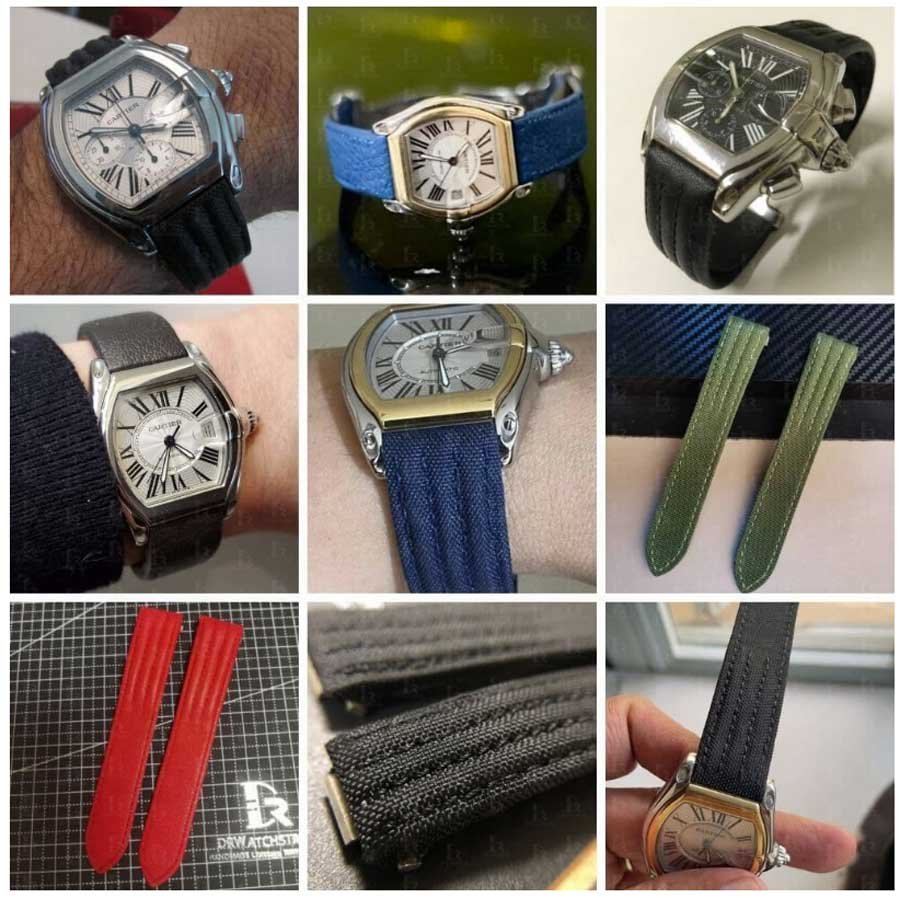 Custom handmade quickswitch leather watch band designed to guarantee fit New Santos de Cartier Large 40mm & Medium 35mm watches – Easy to install
High-End Quality Alligator leather quick release strap for Cartier 
Best Quality Cartier quick release crocodile leather strap for Cartier New Santos Large or Medium Description:
Quick Switch system – Quickswitch strap no pin or spring bar needed.
Custom leather watch strap for Hermes watches, use high-end quality leather material, Sport leather band for Hermes cape cod, Heure H, Arceau watch strap, length can be custom made, either double tour (double wrap) and single tour available for sale. Double wrap Also called: Wraparound strap | crossbody strap | double-tour strap | long strap | Double-Loop | Double-wrap strap | bracelet montre Hermes
And more custom leather watch bands & straps, welcome to wholesale and retail. 
Buy Custom leather watch bands for luxury watches from drwatchstrap.com. Custom material, leather color, stitching color, size, and length are available on request.