When it comes to decorating our homes, we all search for unique homeware pieces. We look for pieces that will have our guests talking and our personal tastes highlighted.
For those who prefer to move with the stylistic trends, sourcing these original homeware pieces can be a challenge due to the overwhelming choice.
Many homeowners want unique items that are good quality, and often sustainably and responsibly sourced.
Thankfully, we've compiled a list of the 8 most unique 2020 pieces set to complement every home as we move into the closing months.
1.   Wooden Lacquer Wine Holder
The festive season is upon us and that means friends, family and festive entertaining. What better way to grab guests attention than with this wooden wine bottle holder?
Yes, it really balances and no, there's no chance of spillage! Just place the holder on a flat surface ensuring the hole faces upright to either the left or right. Place the neck of the bottle through the hole, making sure it's securely through, then just gently let go.
Lacquer wine holders are made from sustainably sourced harvested lacquer that is then transformed into wood composite fibreboard. Each wine holder is then dutifully trialled and tested to ensure it balances correctly before being hand-painted and layer upon layer of lacquer added over a period of two months. These layers are what gives the piece its robustness, as well as its glossy shine and deep, eye catching colours.
2.    Rattan Coffee Table
Rattan Furniture flourished in 2020 with its popularity leading it to feature in acclaimed magazines like Harper's Bazaar and the Stylist.
If you're behind on what Rattan Furniture is, Rattan refers to the lightweight vine native to the South East of Asia, Africa and Indonesia. It's both durable and flexible which has made it the perfect accompaniment to the new home trend of 2020: Outdoor eating areas.
As the winter nights draw in, you can keep a touch of the exotic outside, inside, with this Hazelnut Rattan Coffee Table, perfect for orangeries, conservatories and heated patios.
3.   Cloudy Day Toilet Paper Storage Holder
It would be remiss to not mention toilet paper holders in 2020, so here's the best one on the market.
The Cloudy Day Toilet Paper Storage Holder looks like something you would be able to find in a Sims franchise video game, but promises to be a talking point. Reviews of the piece attest to it always drawing laughs or comments from houseguests, so it's bound to be a topic of conversation.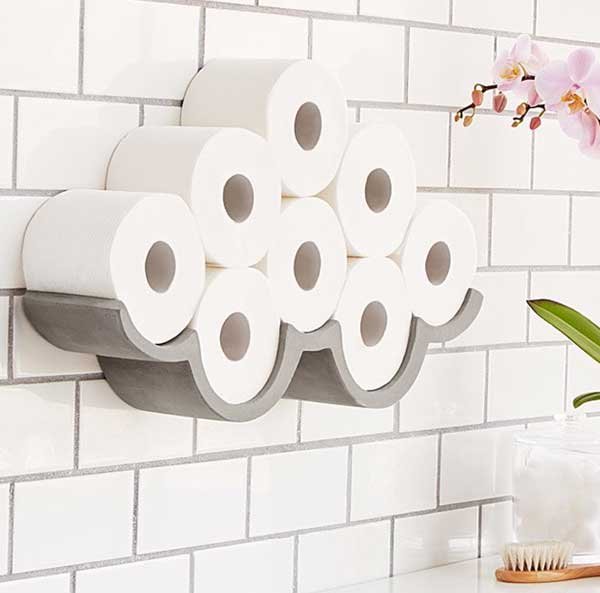 Made out of concrete with wall mount attaches, it's recommended to place at least 8 rolls in the holder to get its full effect. Designer of the piece, Frenchman Bertrand Jayr alludes to his inspiration being the obsession with softness that surrounds toilet tissue, hence his likening it to soft, fluffy clouds.
4.   Weather Predicting Black Swan
Why use a virtual home assistant for your weather update when you can throw it back to old-school with this weather predicting glass barometer.
The piece is entirely handmade, and combines the perfect mix of both science and artistry. It uses techniques dating back over 400 years to tell the weather.
If the atmospheric pressure is high – a sign of good weather ahead – the black liquid in the swans neck retreats and sits much lower in the curvature. When the atmosphere is low – a sign of bad or changeable weather – the liquid rises.
Let's face it, it's bound to be a talking point in the centre of the table, especially if the weather changes whilst your guests are there. A perfect Christmas gift.
5.   French Antique Breadboard
According to image sharing and social media site, Pinterest, searches for second hand have risen by 364%. French antiques is just one of those sub-searches continuing to rise.
Within the French antique aesthetic, commonly searched items are patinated mirrors, farmhouse style linens and of course, ornamental kitchen accessories like the ones pictured above.
These vintage breadboards are made from reclaimed wood first crafted in the 1970s, and come straight from a French restaurant supply house. They're sustainable, recyclable, and bound to give just a hint of European dining elegance to your bread presenting game.
6.   Red Akari Table Lamp
As well as antiques being on the rise, so is minimalism – specifically, Japanese. "Japanese style house" remained the top homeware decor related search in 2019, and it's stayed that way throughout 2020.
This minimalist, paper lantern reminiscent Akari table lamp is just one of the best items on offer. Other Asian themed items include miniature stone lanterns, Chinese or Japanese tea caddies and Thai style bronze fishes.
7.   Deep Sea Sand Art
As a majority of the workforce moved into cramped, or otherwise unsuitably designed, home offices at the beginning of 2020, the rise in therapeutic pieces of art or desk accents has risen. Introducing: Sand art.
It's currently a best seller across a number of different homeware sites, and promises to bring a sense of calm tranquility to your office environment.
Owners of the piece allude to getting lost in its ever-changing artistic creations, which of course, is its appeal. Simply place the item on a flat surface, and watch as light, dark and golden coloured grains of sand descend, shift and transform into a variety of landscapes, including oceans, clouds, mountains, rains and even deserts.
8.   Lion Handmade Ceramic Serving Bowl
The dominating trend for 2020 has been one of sustainability and thriftiness, with thrift store searches on the rise alongside secondhand and recyclable. Part of that search has focused almost exclusively on handmade items for their natural one-off style.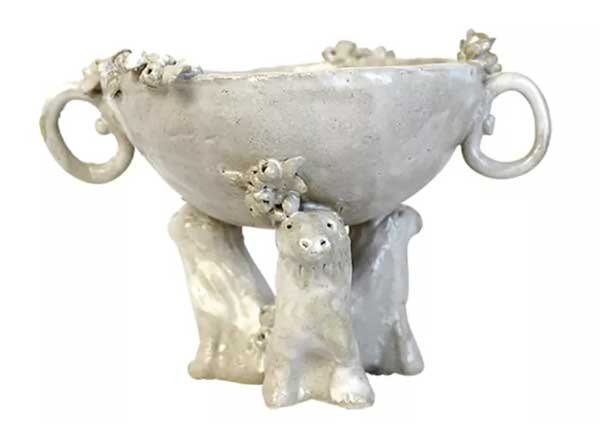 This handmade ceramic serving bowl in the shape of a pack of lions is one example of ceramic pieces that are flying out fast.
This year homeowners want to add interesting, original and sustainably curated looks to their homes, as well as trying to keep items to a minimal. What's even better for ceramics this year is that grey is the dominating style, so pieces like this in stonewashed silver add the perfect classical touch to a modern room. Perfect for complementing a bunch of fresh flowers or standing alone.
Last modified: November 19, 2020