Who Is Tyler "Ninja" Blevins?
Richard Tyler Blevins, better known as Ninja, is one of the most famous and richest Twitch streamers and YouTubers. He is also a professional Fortnite player. Before retiring his profile in Twitch, he had more than 14 million followers and was considered the most-followed Twitch channel.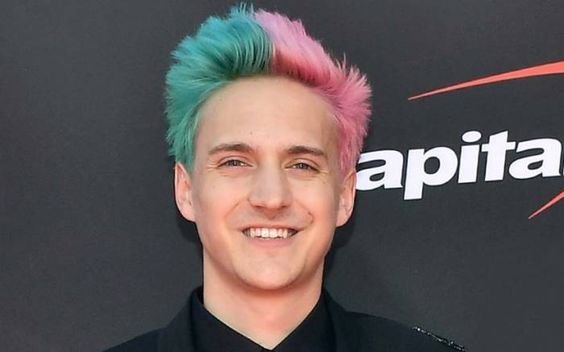 Personal Details
Celebrity Name:

Tyler "Ninja" Blevins

Full Name:

Richard Tyler Blevins

Gender:

Male

Birth Date:

June 5, 1991

Birth Place:

Detroit, Michigan, US

Age:

28

Height:

1.81m

Weight:

70 kilos

Nationality:

American

Sexual Orientation:

Straight

Status:

Married

Wife:

Jessica Goch Blevin, married since 2017

Children:

None

Profession:

Professional gamer, live streamer, YouTuber, and internet personality

Net Worth:

$18 million
Early Life
Tyler Blevins was born on June 5, 1991, in Detroit, Michigan, to parents who have American and Welsh ancestries. When he was only one year old, he and his family moved to Chicago and was mostly brought up there. While growing up, Ninja already showed interest in sports and video games. He went to Grayslake Central High School, where he was a soccer player. He was also an eager player in video games.
After graduating, he decided to become a professional video game player. He joined professional organizations, participated in tournaments, and streamed his games live.
Personal Life
Ninja is married to his financial manager and best friend, Jessica Goch Blevins. She is also an internet personality and the two met back in 2010 while on their way to a Halo Competition in Wisconsin. However, Ninja was still in a relationship at that time. They began dating three years after he responded to the birthday tweet of Jessica. After she finished college, Jessica moved to Illinois to be with Tyler. They tied the knot in 2017 but don't have any kids yet.
Career
In 2009, Ninja started playing the online game Halo 3 professionally. He played for several organizations, such as Team Liquid, Renegades, Cloud9, and Luminosity Gaming. In 2011, he officially became a live streamer.
He started playing H1Z1, then Player Unknown's Battlegrounds. In 2017, he was a member of Luminosity Gaming and played H1Z1 initially. Later on, he transferred to PUBG, where he was the winner of the 2017 PUBG Gamescom Invitational Squads Classification.
After the invitational, he started live streaming while he was playing Fortnite Battle Royale. His following started to expand with his Twitch channel garnering more than 2 million followers in 2018.
In that same year, he broke the Twitch record by having the biggest audience on an individual stream with 635,000 views while playing Fortnite with Travis Scott, Juju Smith-Schuster, and Drake. Furthermore, in partnership with Red Bull eSports, he held a special event, The Red Bull Rise Till Dawn, where players can challenge him in playing Fortnite.
In August 2019, he left Twitch and transferred to Microsoft's Mixer. However, he still has his YouTube channel, where he currently has more than 23 million subscribers. At this time, he is earning about $500,000 each month from streaming his Fortnite games.
Awards and Achievements
In the 2018 Streamy Awards, he was nominated in two categories – Creator of the Year and Breakout Creator and won the Live Streamer Award. In that same year, he has also won the awards of eSports Personality of the Year and Content Creator of the Year in the 2018 Game Awards. In 2019, he was nominated Twitch Streamer of the Year in the Shorty Awards. He was also nominated Creator of the Year and won the Live Streamer Award in the 2019 Streamy Awards. Lastly, he was nominated for Favorite Gamer in the Kids' Choice Awards.
Total Net Worth 2020
To date, Tyler "Ninja" Blevins is believed to have a total net worth of $18 million. The majority of his wealth came from playing and live streaming the popular game, Fortnite. He has also earned a great deal of money for being a professional eSports player. Apart from that, he is highly paid for endorsements, like for Apex Legends, he was paid $1 million to play the game in his streams.