If you want to be part of the thrilling motorcyclist community in Ontario, you need more than a splendid bike. Every biker living in Ontario needs to have a valid motorcycle license. If it is your first time operating a bike, you must also take Ministry of Transportation-approved courses. These are available at some non-profit schools, as well as a few local colleges.
Riding and handling a motorcycle is a responsibility that includes maintaining proper savings for maintenance and fines. So, if you feel ready to finally have your own ride, make sure to purchase insurance for its security. You can check out Surex for the most affordable motorcycle insurance policy with a plethora of benefits.
Before purchasing motorcycle insurance, and riding a bike into the wind, let us check out the ways to get a motorcycle license through carefully conducted steps:
Ontario Driving Rules
When you are riding a motorcycle in Ontario, keep the following rules in mind:
Make sure you have your helmet on (the rule excludes Sikh riders as they might need to have headgear on).
Keep your driver's license on you whenever you are driving or riding a vehicle.
Ensure that you are driving safely and follow all traffic rules.
Carry your insurance papers, owner's permit, and the bike's license plate.
Different Types of Motorcycle License
The approved courses will cost you anywhere between $400 to $500. With the help of the courses, you can earn your insurance in 3 stages: M, M1, and M2. The M-class license is necessary if you wish to drive a motorcycle. Now, the three license types are for different kinds of motorcycles: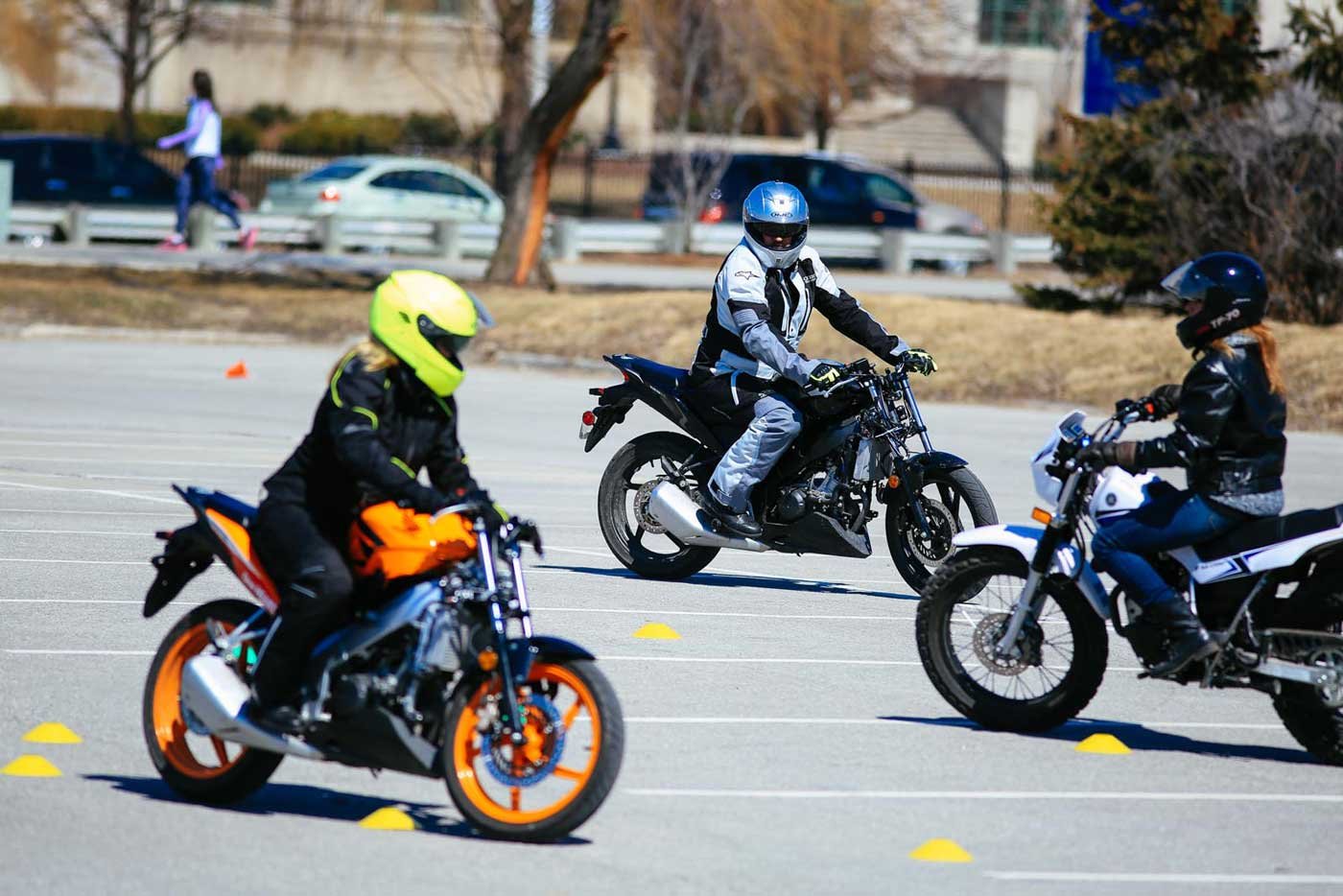 M (M1 and M2):
You will need this license if you have a full-speed motorcycle.
M with Condition L (M1 and M2-L):
This motor license is a must for limited-speed motorcycles (LSM), for example, the motorized scooter and moped.
M with Condition M (M1 and M2-M):
Make sure you have this license on you if you have a 3-Wheeler motorcycle.
All in all, there are four types of motorcycles for which you need a license in Ontario:
Motor tricycles (3-wheeler)
Motorcycles
Motor-assisted bi-cycles like mopeds
Limited-speed motorcycles
Please carry the correct license for the right motorcycle. For example, if you have a Class M license, you cannot drive an LSM bike as it is not within your legal paper. Each license limits the rider to a particular vehicle, and driving anything outside of it is a criminal offense.
How To Get Your Motorcycle License
When applying for a motorcycle license, make sure you provide your:
Legal name,
Signature, and
Date of birth
You must also pay to take the written test for the license. As for your identity documents, there are different kinds of legal documents, such as:
For Canadian Citizens:
Your Canadian Citizenship Card
A Canadian or Foreign Passport
Your Ontario Photo Card
If you are an Indian, then the Secure Certificate of Indian Status Card that was issued by Indian and Northern Affairs Canada on or after 15th December '09
If you are a Permanent Resident:
The IMM 1000 Record of Landing
Your Ontario Photo Card
Your Permanent Resident (PR) Card
The IMM 5292 Confirmation of Permanent Residence
If you are a Temporary Resident:
IMM 1442 Temporary Resident Permit
IMM 1442 Student Authorization or Study Permit
IMM 1442 Work Permit or Employment Authorization
IMM 1442 Report Pursuant to the Immigration Act with a Photograph
IMM 1442 Visitor Record
Your Ontario Photo Card
IMM 7703 Acknowledgement of Intent to Claim Refugee Status with a Photograph
IMM 1434 Refugee Status Claim
Steps To Get Each License
The first step to passing the M1 license is to pass your eye test and written test. A full M license will be yours when you complete two learning levels of M1 and M2, M1 and M2-L, and M1 and M2-M. You must also pass your two road tests to complete the learning process.
It takes a while to finish learning after you receive your M2 license. Till then, you shall be considered a novice driver. Here are how you can receive and abide by your licenses:
M1:
You can take an M1 knowledge test at a drive test location. It comes with multiple-choice questions. After that, you need to wait for 60 days to receive your M2 license. If you own an M1 license, the laws to abide by are:
Your blood alcohol level should be 0.
You must ride only during the daylight hours.
Riding on 400-series highways is prohibited.
You should wear a proper helmet unless you are a Sikh operator.
No passengers should be on your bike.
M2 License:
You can take your M2 license test at the Ministry office. You need to bring your own bike to take this test. If you pass this test, you shall receive your license upgrade paperwork, which you can take to the Drive Test Location for your temporary M2 license. You shall receive the permanent license via mail.
With the M2 license at hand, you can ride your bike at night. However, maintaining 0 alcohol content in your blood and wearing a helmet are mandatory rules to abide by. After receiving your M2 license, you need to wait 22 months before your second road test for the full M license. Of course, you can reduce the waiting period to 18 months if you take a Motorcycle Safety Course from a reputable institute.
M License:
You need to take your motorcycle to the Ministry office for this test. Also, make sure you learn all crucial details about safe driving. You become a fully licensed driver once you have a full M license to your name. You are now a responsible driver!
Endnote
Having a license for your motorcycle is as crucial as getting proper insurance for the vehicle. Hence, if you successfully hold a full M license, make sure to check out Surex to know more about its insurance policies, including affordable premiums for your motorcycle.