Paving a driveway or a parking lot on your own is possible. However, it requires a serious approach, a considerable amount of research, proper equipment, and sufficient assistance.
Property owners often try to save money by paving the surface without professional help. The results don't always match expectations. However, if you take the time to prepare for the job, you can get it done in a satisfactory manner.
Let's take a closer look at the pros and cons of DIY asphalt paving.
Advantages of DIY Asphalt Paving
Let's start with the benefits of paving your own driveway or parking lot.
       

Cutting costs

– the cost of paving a large parking lot can be high. The expenses include materials and labor costs. If you decide to pave the surface on your own, you can save money on labor expenses, which can be as high as $2 per square foot. That's about $400 per parking space.

       

Setting your own schedule

– during the high season, it can be hard to find a paving contractor who is available for the date and time you need. When it comes to DIY asphalt paving, you set the schedule according to your requirements. However, you would still need to coordinate assistance and equipment rental.

       

Satisfaction

– when you are doing something yourself, you can do it according to your own standards. While the majority of contractors you work with may seem reliable, only a few can provide the quality you expect.
Overall, if you have the experience, assistance, and tools to pave an asphalt parking lot or driveway, you can do it. However, hiring a paving company could still be a good choice.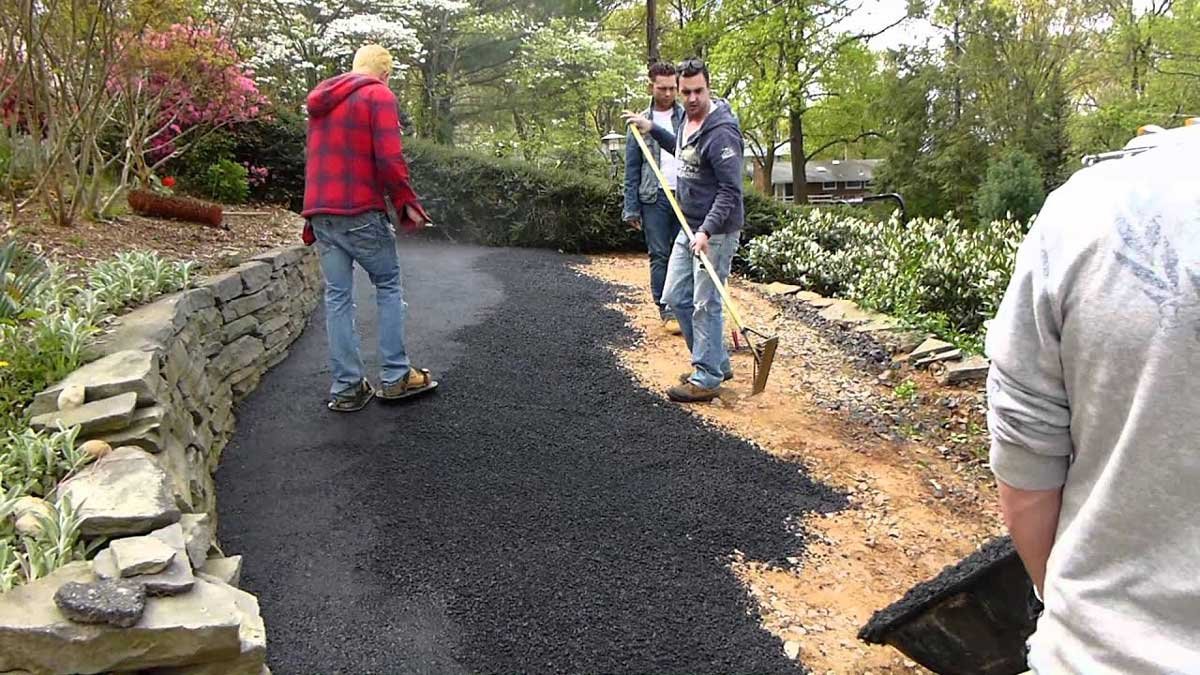 Disadvantages of DIY Asphalt Paving
While paving an asphalt driveway on your own may seem like a good idea, it comes with a couple of significant disadvantages:
       

Equipment

– you need special equipment to pave an asphalt surface like

asphalt pavers

, milling machines, rollers, and more. To do the work on your own, you have to rent or borrow this equipment. This could mean disruptions in your schedule. Besides renting the equipment, you need to arrange to bring it to the paving site.

       

Assistance

– no matter how determined you are, you can't pave the surface alone. This means you have to find assistants (friends, family, coworkers), who are willing to lend you a hand. These people have to be willing to learn about asphalt paving. Otherwise, you could waste materials and fail to achieve the desired results.

       

Safety

– asphalt paving is a dangerous job. You could get hurt when using the equipment, handling hot materials, loading and unloading asphalt, and more. That's why it's imperative to adhere to safety guidelines, which you need to study in advance.

       

Speed

– even if you've paved asphalt surfaces before, you probably don't have extensive experience doing it. That means that it's going to take you much longer to finish the job than it would take professional. Consider the speed factors when setting up your paving schedule.

       

Quality –

the asphalt paving technique is integral to the quality and longevity of your asphalt pavement. If you make a mistake when paving the driveway or parking lot, you may have to repave in the nearest future. According to

experts from CSG Sealcoating, Tampa

, many DIY asphalt jobs need tweaking before a sealcoat can be applied.
While you may think that you are saving money by paving your driveway on your own, you could be wasting it instead. Without proper equipment, assistance, and experience, you are likely to make mistakes that could make the surface prone to damages, elements, and chemicals.
With the right approach, asphalt pavement can last for decades. A simple mistake at the paving stage could render it useless in just a few months.
The Takeaway
Paving a driveway or a parking lot on your own is possible. To do it, you need professional equipment, time for research, and assistance. Before paving the surface, you have to learn numerous paving nuances in order to avoid unfortunate mistakes.
If you'd like to save time, effort, and probably money, consider hiring a team of professionals. You are more likely to be satisfied with the results when experts are at the helm. 
Last modified: September 14, 2021