Necklaces and lockets are a great way to add some personal style to your outfits. Necklaces and lockets can match professional clothing, formal clothing, and casual clothing. Lockets can be especially sentimental. Lockets often contain photos, text, or other tiny sentimental/ romantic reminders. A locket is a great way to keep someone that you love close to your heart. Lockets also make wonderful gift items. 
When shopping for a locket for yourself or for a gift, there are a few key factors that you will want to keep in mind. It is important to consider the price of the locket that you are buying and the quality of the locket that you are buying. When styling a locket, you want to feel stylish but still subtle and not over the top. This is why it is also important to consider the type of locket that you are buying when shopping for one. These 8 locket styles are sure to give you the stylish yet subtle look that you desire. 
Photo Lockets 
Photo lockets are probably the type of lockets most commonly thought of when lockets are mentioned in conversation. Photo lockets are necklaces that hold one or two tiny photos within an encased pendant compartment. Photo lockets can contain photos of yourself and a loved one, photos of loved ones, photos of historical figures, or any other photos that you find to be particularly sentimental. 
Quote Lockets 
Inside of a locket pendant, there may be something else besides photos. Quotes also look subtle and stylish when included inside a locket pendant. A romantic quote, inspirational quote, or another kind of quote may be found inside a locket pendant. A quote locket is an attractive option for anyone who wishes to wear a locket but cannot select which photos they would like to wear inside of a locket. 
Solid Gold Lockets 
Solid gold lockets are available at different price points, depending on the karat of the gold used to make the locket. Gold photo lockets can be very expensive when made from solid gold, but these pieces are some of the best gifts that can be given and received. A locket that is made of solid gold could (and should) last for generations as a sentimental family heirloom. These are great investment pieces for people who can afford them.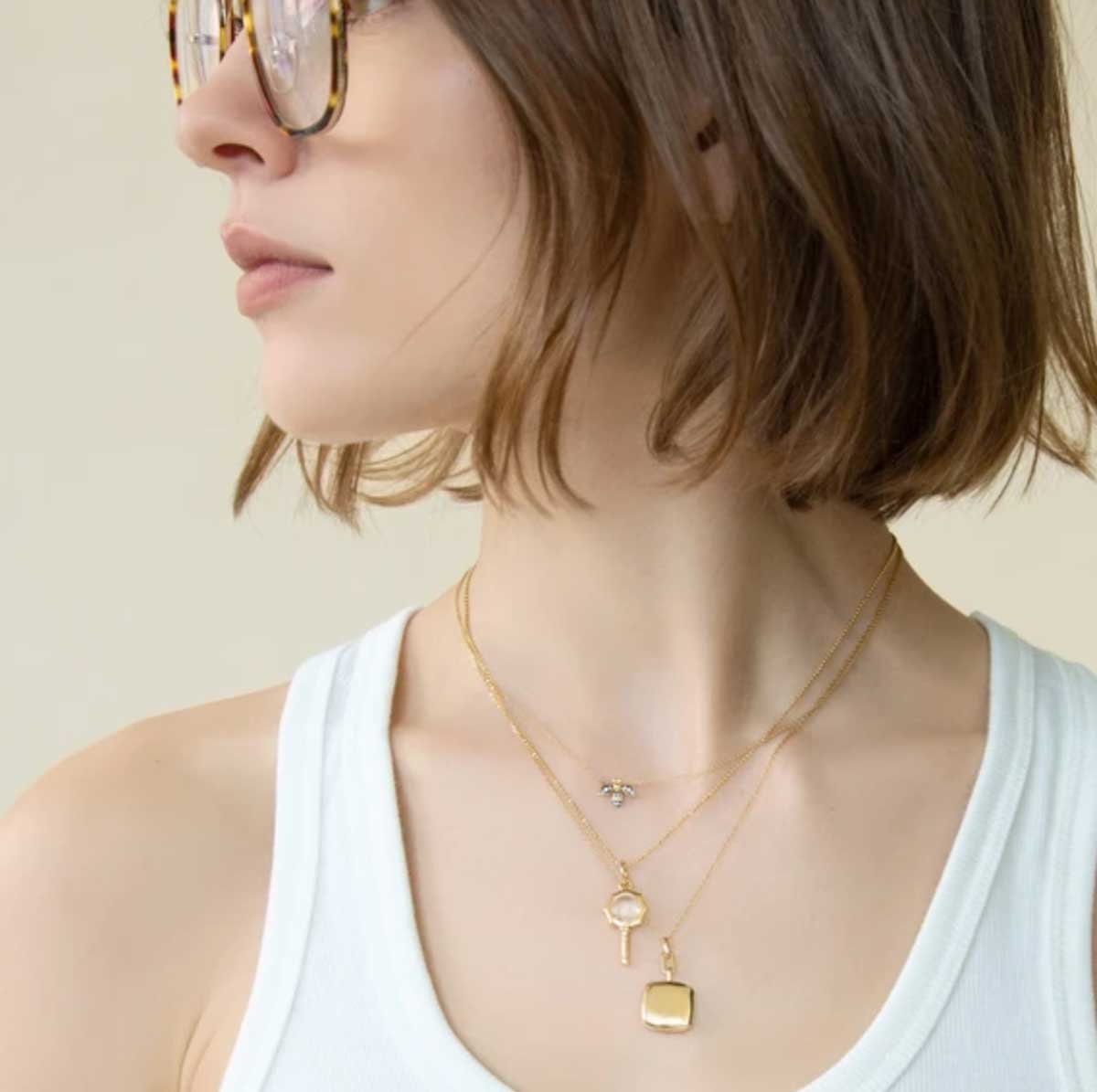 Gold Plated Lockets 
For anyone who loves the look and style of a solid gold locket but for one reason or another does not want to invest in one, it is a good idea to get a gold-plated locket instead. Gold plated lockets are often more cost-effective alternatives to solid gold lockets. They will still look stylish with all of your other gold jewelry pieces. Gold plated jewelry is also a good option for anyone with an active lifestyle that puts their pieces at risk.
Silver Lockets 
 Silver lockets are a great alternative to gold lockets. Silver is also high quality, beautiful, and subtle material. Silver lockets will look their best when worn with silver watches, earrings, or bracelets. Silver lockets also look great when paired with belts, bags, or shoes that have silver hardware. Usually, it is considered fashionable to match silver to silver and gold to gold. If you have more silver in your wardrobe than gold, you may opt to get silver pieces over gold ones. 
Engraved Lockets 
Engraved lockets can be engraved on the inside or on the outside. Engravings can be done by hand or by machine, and this will cause price variation. Engravings can be pre-set, or they can be customized or personalized. The sky is the limit for the type of designs that can be engraved onto lockets. 
Handmade Lockets 
Independent jewelry makers often have beautiful handmade lockets available for purchase. Supporting a small business or independent business is a good way to support your community and also find the unique items possible. Handmade lockets can often be found at craft fairs, renaissance fairs, or art festivals. 
Initial Lockets 
 Initial lockets might feature your first initial and the first initial of a person you love. They might also feature your first and last initial. These initials can be engraved inside the locket pendant or the outside of it. These initials can also be printed onto paper and placed in the cavity of the locket pendant. Locket pendants make sentimental and thoughtful gifts, and they are also a way to keep loved ones close to your heart.
Last modified: April 22, 2021